Financial Literacy & Resources
Protect Your Finances
Future Scholar Financial Literacy Program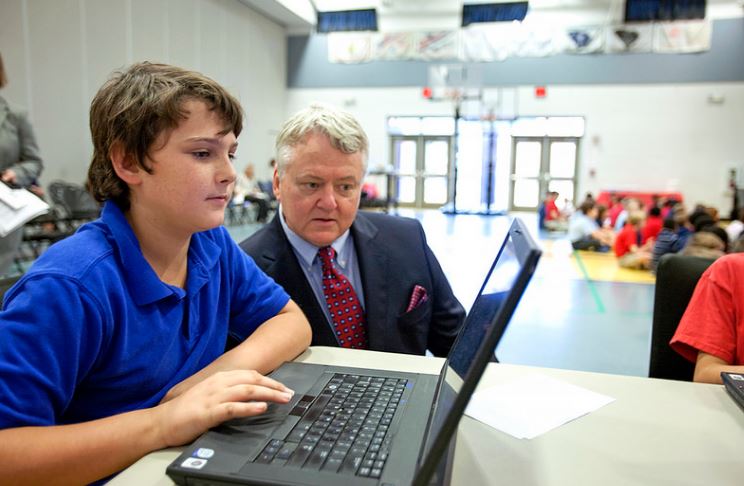 Treasurer Curtis Loftis is very proud of the work he and his staff have done promoting financial literacy in South Carolina schools across the state.
Check out the financial literacy resources from the Future Scholar Financial Literacy Program, presented with Everfi.
Also, check out the Kids Page for more tools to help youngster learn about financial literacy.
Five Important Consumer Protection Tips
1. Review Your Credit Reports and Bank Statements
Remain vigilant by reviewing account statements and monitoring credit reports. You can receive free credit reports by placing fraud alerts and by monitoring your credit. Under federal law, you also are entitled every 12 months to one free copy of your credit report from each of the three major credit reporting companies. To obtain a free annual credit report, go to www.annualcreditreport.com or call 1-877-322-8228. You may wish to stagger your requests so that you receive a free report by one of the three credit bureaus every four months.
You also have the right to file a police report if you experience identity fraud. Please note that in order to file a crime report or incident report with law enforcement for identity theft, you will likely need to provide some kind of proof that you have been a victim. A police report is often required to dispute fraudulent items. You can report suspected incidents of identity theft to local law enforcement.
2. Contact Credit/Debit Card Issuer
When credit/debit card information is compromised, the best protection is reissue of the card. To protect yourself from the possibility of unauthorized charges, we recommend that you check your bank account statements regularly. If you detect any unauthorized charges, we strongly suggest that you contact your credit/debit card issuer immediately by calling the toll-free number located on the back of your card or on your monthly statement, tell them what you have seen, and ask them to cancel and reissue the card. You should tell your credit/debit card issuer that your account may have been compromised and review all charges on your account for potentially fraudulent activity. We also recommend that you change your credit/debit card web account password immediately when you discover unauthorized charges.
3. Place Fraud Alerts with a credit bureau
You can place a fraud alert at one of the three major credit bureaus by phone and also via Experian's website. A fraud alert tells creditors to follow certain procedures, including contacting you, before they open any new accounts or change your existing accounts. For that reason, placing a fraud alert can protect you, but also may delay you when you seek to obtain credit. The contact information for all three bureaus is as follows:
It is necessary to contact only ONE of these bureaus and use only ONE of these methods. As soon as one of the three bureaus confirms your fraud alert, the others are notified to place alerts on their records as well. You will receive confirmation letters in the mail and will then be able to order all three credit reports, free of charge, for your review.
4. Security Freeze
By placing a freeze, someone who fraudulently acquires your personal identifying information will not be able to use that information to open new accounts or borrow money in your name. You will need to contact the three national credit reporting bureaus listed above in writing to place the freeze. Keep in mind that when you place the freeze, you will not be able to borrow money, obtain instant credit or get a new credit card until you temporarily lift or permanently remove the freeze. In South Carolina there is never a charge to you for placing, thawing or lifting the freeze.
5. For Additional Information about ways to avoid identity theft
For additional resources, please visit:
Some Quick Financial Safety Tips:
Protect your Social Security number. Don't carry your Social Security card or other cards that show your SSN.
Read, "Identity Theft and Your Social Security Number"
Use caution when giving out your personal information. Scam artists "phish" for victims by pretending to be banks, stores or government agencies. They do this over the phone, in emails and in postal mail.
Treat your trash carefully. Shred or destroy papers containing your personal information including credit card offers and "convenience checks" that you don't use.
Protect your postal mail. Retrieve mail promptly. Discontinue delivery while out of town.
Check your bills and bank statements. Open your credit card bills and bank statements right away. Check carefully for any unauthorized charges or withdrawals and report them immediately. Call if bills don't arrive on time. It may mean that someone has changed contact information to hide fraudulent charges.
Check your credit reports. Review your credit report at least once a year. Check for changed addresses and fraudulent charges.
Stop pre-approved credit offers. Pre-approved credit card offers are a target for identity thieves who steal your mail. Have your name removed from credit bureau marketing lists. Call toll-free 888-5OPTOUT (888-567-8688).
Ask questions. Ask questions whenever you are asked for personal information that seems inappropriate for the transaction. Ask how the information will be used and if it will be shared and how it will be protected. If you're not satisfied with the answers, don't give your personal information.
Protect your computer. Protect personal information on your computer by following good security practices. Use strong, non-easily guessed passwords.
Use firewall, anti-virus, and anti-spyware software that you update regularly.
Download software only from sites you know and trust and only after reading all the terms and conditions. Don't click on links in pop-up windows or in spam e-mail.
Use caution on the Web. When shopping online, check out a web site before entering your credit card number or other personal information. Read the privacy policy and choose to opt out of information sharing. Only enter personal information on secure web pages that encrypt your data in transit. You can often tell if a page is secure if "https" is in URL or if there is a padlock icon on the browser window.