August
SC Faces of ABLE
William Farrior likes to stay busy. When he isn't working for the South Carolina Department of Administration's South Carolina Developmental Disabilities Council as the Partners in Policymaking Coordinator, William can be found going to class at Midlands Technical College, attending meetings for the number of boards and committees he serves on, participating in adult sports leagues or operating the sound system at Bethel AME Church.
William, who was diagnosed with Asperger's syndrome at the age of 14, has a very busy schedule and big goals on the horizon. With the launch of the South Carolina ABLE Savings Program in November 2017, he discovered a resource that could help him along the way.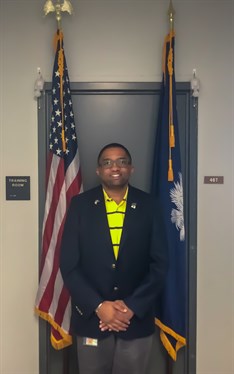 "I've never been a great saver," William said, "but owning an ABLE savings account has given me structure and direction on how I can accomplish my savings goals each year." William found that having a South Carolina ABLE savings account made it easy to save money towards buying a condo and earning a second college degree from Midland's Technical College.
"To me, being an account owner means that I can put a significant amount of funds away that I will not touch," William said. In fact, SC ABLE ℠ savings account owners can save up to $15,000 per year, and up to $27,060 if they are employed, without fear of jeopardizing government benefits.
William also appreciates some of the other benefits of being a South Carolina ABLE savings account owner, including overdraft protection and gifting options. "My South Carolina ABLE savings account allows me stay within my budget," he said. "I also appreciate that it allows family members and friends to contribute money to my ABLE savings account to help me make my dreams come true."
While his ABLE savings account is currently helping him save for his short-term goals, William's ultimate goal is to earn his Ph.D. and one day to get a dog. "With a South Carolina ABLE savings account, you've reached your destination of having some of your stress relieved. You don't have to wonder about how to save money for your future or your child's future. No matter what the disability is, the South Carolina ABLE Savings Program is an opportunity to become financially independent and successful."
The South Carolina ABLE Savings Program is administered by the South Carolina State Treasurer's Office. For more information about the program, please call1-800-439-1653 or visit https://treasurer.sc.gov/sc-able.