May
SC Faces of ABLE
While the spotlight shines on Mental Health Awareness during the month of May, Bill Lindsey, Executive Director of South Carolina's National Alliance on Mental Illness (NAMI SC), works tirelessly throughout the year to raise awareness and reform mental health across the state.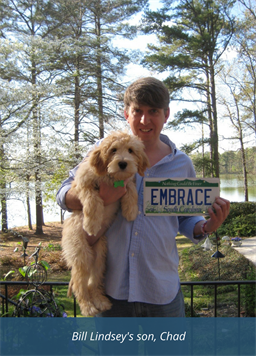 For Bill, the work he does at NAMI is much more personal. "I, like so many others, had a son that became ill at the end of his second year in college with bi-polar disorder," Bill explained. "I was fortunate. We had someone in our Sunday school class that was leading a NAMI support group, when we first realized my son had a problem. It's a lot more common than people think."
Last fall, State Treasurer Curtis Loftis was excited to launch the South Carolina ABLE Savings Program to help families like Bill's save and invest for their child's future.
"We talk about it at our meetings all the time," said Bill. "It opens up all kinds of opportunities without losing your benefits."
An important feature of the South Carolina ABLE Savings Program is individuals can save up to $15,000 per year and vital disability or other benefits are not jeopardized. To be eligible for an account, the onset of the disability must occur before the age of 26. 
"Seventy-five percent of the folks who get mental illness usually get it by age 26. That's when the brain is continuing to perform its last growing and if those last connections don't form correctly, that's when some of the things happen with serious mental illness."
While the program continues to grow, the number of individuals with mental illness opening a South Carolina ABLE savings account is lower than other segments of the population. According to Bill, that's not too surprising as there is still a lot of stigma associated with mental health disorders. 
Thankfully with a South Carolina ABLE savings account, individuals can self-certify using their own medical records and a doctor's statement.
"The South Carolina ABLE Savings Program meets the needs of our community by allowing individuals and their families to save for the future. It just seems like it's a great opportunity for someone to be able to take care of their loved one," said Bill. "As a dad you want to see what can you do to make things better, learn what you can to help fix the situation and you find out pretty quick that it's not always an easy fix."
If you'd like to open an account or learn more about the South Carolina ABLE Savings Program, call 1-800-439-1653 or visit https://treasurer.sc.gov/sc-able. For information about NAMI-SC, visit http://namisc.org