South Carolina's Pension Plan is $24 Billion in Debt
The pension system doesn't need a Band-Aid, or a temporary fix, it needs a permanent solution before the lawmakers go home in May.
The state has mismanaged our pension system and created a $24 billion pension debt. That debt must be paid but there is no money to pay it. The General Assembly has a duty to the taxpayers to make the pension debt its number one priority. The pension debt is the massive pothole you can't see. It is the debt that is larger than our state budget. It is the debt that will cause taxes to rise and the money for education, laws enforcement and essential needed services to dry up.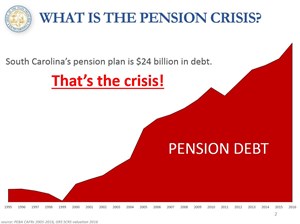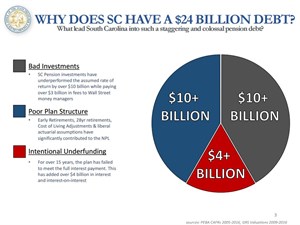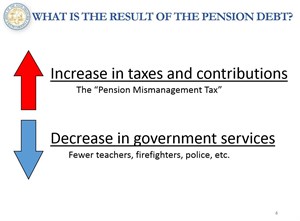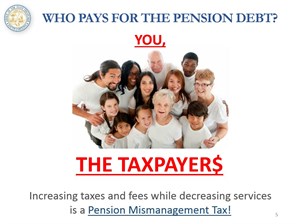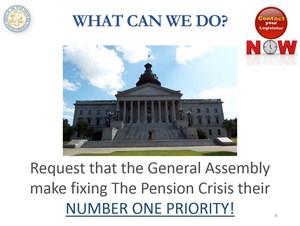 ---
Previous Research
South Carolina's Pension Crisis: The pothole you can't see - January 19, 2017
Treasurer Loftis' 2015 PowerPoint on how the Retirement Investment Commission is putting retirees and taxpayers at risk
Treasurer Loftis' 2014 PowerPoint on Retirement Investment Commission's Outrageous Fees
Treasurer Loftis' May 4, 2013 letter to pension fund consultants HEK concerning high fees
Archived Financial Information
---
News Coverage
"S.C. Treasurer, armed with Attorney General Opinion, Blasts Pension Fund Management" -- The Post & Courier, January 31, 2016
"$24 Billion in Debt and You May Be Footing the Bill" - WLTX, January 31, 2016
"South Carolina's looming pension crisis" - The Post & Courier, December 4, 2016
"Cigarette tax hike among ideas to stabilize S.C. pension fund debt" - The Post & Courier, November 12, 2016
Pension costs rising as SC lawmakers look for a fix" - The State, November 10, 2016
---
Web Links:
South Carolina Retirement Systems Website
South Carolina Retirement Investment Commission Website