State Treasurer Curtis Loftis Celebrates ABLE to Save Month as State Surpasses 2,300 Accounts
August 17, 2021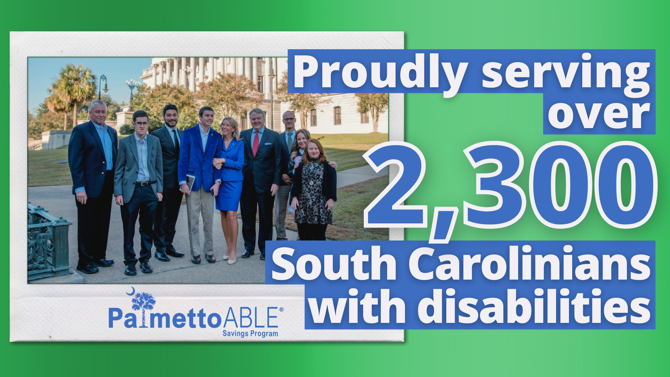 State Treasurer Curtis Loftis is pleased to celebrate national ABLE to Save Month by announcing that South Carolina recently surpassed 2,300 account holders in its Palmetto ABLE Savings Program.
The program enables South Carolina citizens with disabilities the opportunity to save for their future well-being without jeopardizing eligibility for important federal benefits. August is national ABLE to Save Month, which highlights ABLE programs across the country and the value they bring to people living with disabilities.
"South Carolina's Palmetto ABLE Savings Program has significantly changed the way individuals with disabilities and their families plan for the future," explained Treasurer Loftis, who serves as administrator for Palmetto ABLE®. "The program provides the freedom to create savings goals and to prepare for the added expenses that often accompany living with a disability. ABLE accounts are owned by the qualifying individual, helping to foster independence and enhance self-reliance. Account balances are excluded from spend-down requirements, better positioning owners to seek employment and increase their savings without fear of losing important benefits, such as Medicaid and SSI. It's been a real game-changer for our citizens living with disabilities."
The federal Achieving a Better Life Experience Act (ABLE Act) became law on December 19, 2014, allowing states to create savings and investment options for qualified individuals with disabilities that would not jeopardize their eligibility for means-tested public benefits. In April of 2016, the South Carolina General Assembly passed ABLE legislation to pave the way for the Palmetto ABLE Savings Program, which opened for enrollment in 2017.
Contributions to Palmetto ABLE accounts can be made by the account owner, family members or even friends, and 100% of contributions can be deducted on the contributor's South Carolina state income tax return. Earnings on ABLE accounts are also tax-free when distributions are used for qualified disability-related expenses. Up to $15,000 per year can be added to an ABLE account, and the program allows up to $12,760 per year of additional contributions of income by an employed account owner.
To learn more about the Palmetto ABLE Savings Program and its eligibility requirements, visit https://PalmettoABLE.com/. For more general information about ABLE savings plans, visit nast.org/ABLE.