Carla Strong named Future Scholar Financial Literacy Program's Teacher of the Month for March
April 5, 2017
Congratulations to Carla Strong of Merrywood Elementary School in Greenwood. Strong was named the Future Scholar Financial Literacy program's Teacher of the Month for March.
Fourth and fifth-graders at Merrywood have been exploring the program in their regularly scheduled computer lab sessions and in fact, have already completed several of the program's modules.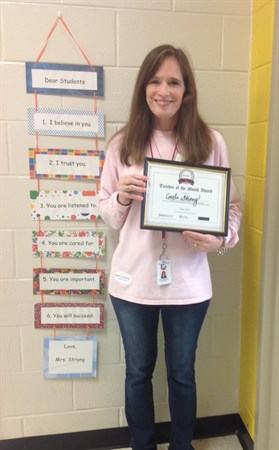 "(The program) ties all facets of financial literacy together in a fun, engaging platform," Strong said.
Strong thinks the program has been particularly beneficial in helping to build on some of the school's pre-existing, career-oriented programs.
"There is also cross-curricular value when you consider the practical applications of the math skills taught in the classroom," she added.
Teaching financial literacy at an early age is something Strong believes is important to students.
"Becoming financially literate at an early age is essential to the development of wise decision-making so that they may attain the goals they've established regarding education, career and financial security," she said.
In fact, one of Strong's students was so enchanted with the program, she walked away not only with valuable insight into saving for the holidays but the recognition of the important role she played in her family's financial picture – whether by contributing to household chores, maintaining solid grades in the hope of attending college and helping to finance her education or by balancing more immediate financial "wants" with longer term "needs."
"Her parents reported her enjoyment of this and its effect on the way she managed birthday and Christmas money, and her drive to take on additional chores when she had a specific purchase in mind," Strong said. "While perhaps not life-changing, it did introduce and ultimately ingrain a pattern of financial decision-making at a far earlier age."
For more information or to learn how you can bring the Future Scholar Financial Literacy program to your classroom, visit http://scfuturescholar.everfi.com.