State Treasurer Curtis Loftis Reminds Families About Perfect One-Size-Fits-All Gift This Holiday Season
November 9, 2020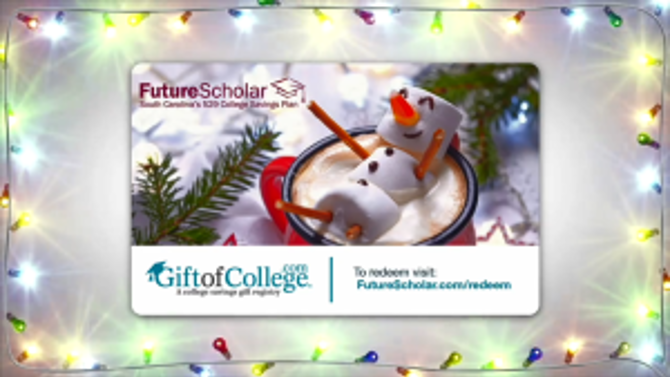 State Treasurer Curtis Loftis wants to remind South Carolina families about the perfect one-size-fits-all gift suggestion this holiday season – a contribution to your loved one's Future Scholar 529 College Savings Plan. Not only does it provide the recipient with a dedicated savings vehicle and the potential for long-term growth, but with Future Scholar, there are advantages for the gift-giver, too.
"Nothing embodies the joy and hope of the holiday season more than a child. As you consider the perfect gift for an important child in your life, I highly recommend a contribution to his or her Future Scholar 529 College Savings Plan," said Treasurer Loftis, who serves as administrator of Future Scholar.
Gifting a Future Scholar contribution is so simple that when aunts and uncles, grandparents, and close friends need gift ideas this holiday season, parents can be ready with a meaningful suggestion, and there are three convenient options for giving – by gift card, eGift or mail. Simply visit FutureScholar.com/gifts to learn more about a gift that won't break or go out of style.
"Giving the gift of Future Scholar means no more fighting holiday traffic and crowds to find the perfect gift. No more frustrating shipping delays that cause presents to arrive late. It's a one-size-fits-all gift that every child can use, and it provides the giver a tax-deductible contribution on your South Carolina state income taxes," added Treasurer Loftis.
In addition to funding qualified education expenses for college, families can now use Future Scholar account funds to help pay for private K-12 tuition, as well as expenses related to registered apprenticeship programs. Earnings grow tax free, and funds used for qualified educational expenses, such as tuition, room and board, textbooks, computers and printers are also withdrawn tax free.
About Future Scholar
Future Scholar is South Carolina's 529 College Savings Plan, administered by the State Treasurer's Office. For more information, visit FutureScholar.com or follow @SCStateTreasurer on Facebook. No state funds are used to market Future Scholar.