Future Scholar to Sponsor Kids' Dunk Contest at USC Men's, Women's Basketball Contests
January 10, 2018
As if dueling Final Four appearances by the University of South Carolina men's and women's basketball teams last season weren't excitement enough, Future Scholar, South Carolina's 529 College Savings Plan, will sponsor kids' dunk contests at six upcoming USC basketball games in 2018.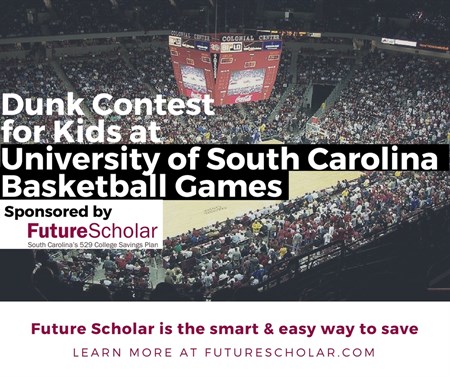 "The Treasurer's Office manages the state's Future Scholar 529 college savings plan, so sponsoring a kids' dunk contest is another way we can help parents and families learn more about Future Scholar, the smart, easy way to save for college," Treasurer Curtis Loftis said.
The first kids' dunk contest will be held Thursday, Jan. 11, during the USC women's basketball game against Auburn. The defending national champion Gamecocks begin their game against SEC rival Auburn at 7 p.m. at the Colonial Life Arena.
The dunk contest will be held during a break in the game. Participants will receive Future Scholar gift bags.
Additional kids' dunk contests will be held:
Saturday, Jan. 20: USC men versus Tennessee;
Sunday, Jan. 28: USC women versus Missouri;
Wednesday, Jan. 31: USC men versus Mississippi State;
Sunday, Feb. 11: USC women versus Florida; and
Saturday, Feb. 17: USC men versus Auburn.
The contest is open to youngsters attending the game, and participants will be chosen randomly by university officials.
For more information on South Carolina's Future Scholar college savings program, go to https://futurescholar.com/.
No state funds are used for this sponsorship, in the marketing of this sponsorship or Future Scholar.