Horry County Agencies Claim Their Unclaimed Property
July 17, 2017
<Macro: (,)>
WBTW News13 follows up with agencies who had unclaimed property returned
Unclaimed money the State was holding has been returned to some Myrtle Beach area agencies, reported News13.
In February, News13 reported about unclaimed money due to local governments and community agencies. Of the $3 million in unclaimed property the Treasurer's Office returned in March, nearly $80,000 was claimed by the town of Lake View. A rescue squad in Johnsonville and the fire department in Murrells Inlet also got money in March shortly after the News13 report.
"News13 is doing a great job of serving their local community by helping local agencies find money they didn't even know they had," said Treasurer Curtis Loftis. "It's great to see the money being returned to the rightful owners."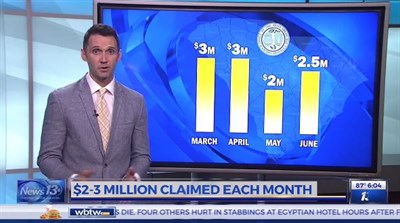 News13 spoke to Chief Norman Knight at the Murrells Inlet Garden City Fire Department. Knight told News13 "We received $1,408.74 that we didn't know we had coming to us, and now we got it."
News13 says after Knight filled out the online form, the State Treasurer's Office did call to get a clarification, but it was a minor hiccup, and his department got a check by mid-March.
"Anytime you deal with the State, you have the expectation that you're going to get the runaround," Knight told News13. "[But] I was well pleased with how it turned out. It wasn't a long drawn out thing."
"All South Carolinians need to know how easy it is to check and claim their Unclaimed Property," said Treasurer Loftis. "It's free to check, and it's a quick process to claim it. Everyone should see if they have unclaimed property waiting for them."
You can click here to see if the State Treasurer's Office is holding unclaimed property for you or members of your family.