Loftis Responds to Commission's False Attacks
October 11, 2013
(Columbia, SC)-- Late on Friday, September 27, 2013, Investment Commission Chief Operating Officer, Mr. Oliver, called the State Treasurer on his cell phone. He was angry that Treasurer's staff asked for Commission documents referenced in a press story and he said the documents did not exist.
Mr. Oliver told the Treasurer, "I'm coming after you with everything I have, and we're (Commission) coming after you with everything we have." He was belligerent, loud, and would not let the Treasurer speak. Mr. Oliver hung up when he was finished with his tirade.
Later, on October 1, long before any manufactured controversy occurred, Treasurer Loftis posted the following on his Facebook page: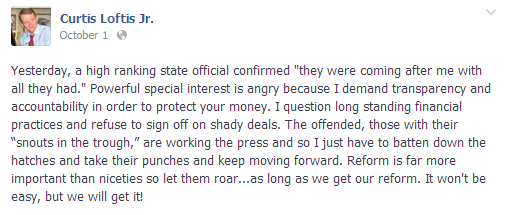 Although the Treasurer could have reported a state employee for making threats against him, he instead, "chose to believe that Mr. Oliver was an adult blowing off some steam after a busy week."
Following today's meeting, Treasurer Loftis stated, "Mr. Oliver's statement concerning the phone call, as reported by various media outlets, is false."
Treasurer Loftis continued, "In today's special meeting of the Commission, I was silenced in what was a well-orchestrated effort to damage my mission to bring transparency and accountability to the under-performing $27 billion pension fund. This will not stop me and instead fuels my efforts further."