More than $27M in Unclaimed Property Returned in 2016
February 3, 2017
Columbia, SC - Treasurer Curtis Loftis and the Unclaimed Property Program returned $27,924,549.95 in unclaimed property in the year 2016.
"It's wonderful seeing the hard work of the Unclaimed Property Program pay off," said Treasurer Loftis. "Returning money to the people of South Carolina is one of the best parts of the job, and paying back more than $27 million in one year is a huge accomplishment."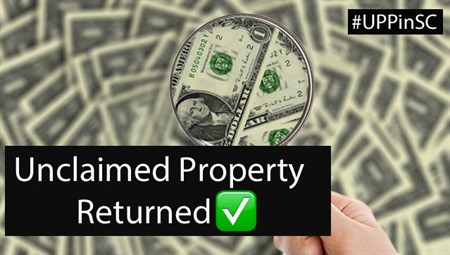 As President of the National Association of Unclaimed Property Administrators, Treasurer Loftis is dedicated to returning the unclaimed money back to its rightful owner. Since Treasurer Loftis has taken office, the annual amount returned has almost doubled and the Program has returned more than $100 million to South Carolinians.  Loftis often spends his own time after hours and on the weekends to search for people who have unclaimed property.
"People have money waiting for them that could change their lives," said Treasurer Loftis. "I want to re-unite people with what rightfully belongs to them."
Millions of dollars are transferred to the Program annually by companies that cannot locate the owners. Examples of the types of property covered by the Program include dormant bank accounts, stock certificates, uncashed checks (including paychecks), insurance proceeds and utility deposits. The Unclaimed Property Program does not include tangible property like land or vehicles.
"We may have paid back $27 million, but we still have $550 million in funds waiting to be claimed," added Treasurer Loftis. "Everyone should check their name to see if they have unclaimed property. You might not even know that you have money waiting for you!
You can click here to see if the State Treasurer's Office is holding unclaimed property for you or your family.