More than $3M Found After WSPA Phone Bank
September 23, 2016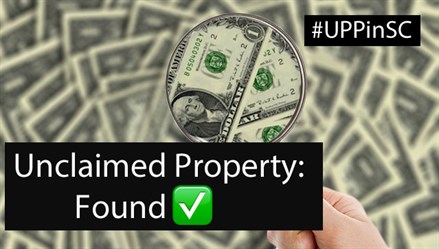 Spartanburg, SC - In the days following the WSPA "Unclaimed Cash" phone bank, $3.5 million in unclaimed property has been found.
11,000 claims were generated in the days following the phone bank on September 15, 2016.
That's when Treasurer Curtis Loftis and WSPA came together to help you find your lost money.
"WSPA did a great service to their community by partnering with the office for the phone bank," said Treasurer Loftis. "So many South Carolinians don't even know they have money that is waiting to be claimed. Getting the word out about this program is the first step in putting the money back into the hands of the citizens."
<Macro: (,)>
During the phone bank, more than 6,300 people found unclaimed money and the total amount of money located was $1.8 million.
The State Treasurer's Office currently has over $503 million in unclaimed property and over $100 million of this belongs to individuals in the Upstate.
If you missed the live phone bank, you can search for unclaimed property on the State Treasurer's website by clicking here. If you've lived in another state, you may also want to check MissingMoney.com for a list of property held in over 39 states.
See more coverage about the Unclaimed Money Hotline from WSPA.
http://wspa.com/2016/09/14/south-carolina-has-503-million-in-unclaimed-money/
http://wspa.com/2016/09/14/unclaimed-money-hotline-thursday-on-7news/