PalmettoBaby Grant Program Offering $5,290 College Savings Grant
June 2, 2017
In celebration of its 15th Anniversary, South Carolina's Future Scholar 529 College Savings Plan is expanding its PalmettoBaby Grant Program.
The annual program, held each May in celebration of National 529 College Savings Day (May 29), is increasing both the number of grants given and the grant dollar amount.
This year, State Treasurer Curtis Loftis is increasing the amount so that every baby born in South Carolina on May 29, May 30, or May 31, 2017 will be eligible to receive a $5,290 grant to a Future Scholar account.
"We are happy to celebrate Future Scholar's growth and success over the last 15 years," said Treasurer Loftis, administrator of the plan.
Treasurer Loftis talked to WSPA about the benefits of opening a Future Scholar College Savings Plan.
"You get to beat Uncle Sam 3 different times," Loftis said. "Contributions made to the plan are tax deductible, the plan grows with investments tax free, you don't pay capital gains every year. And then for educational expenses it's tax free."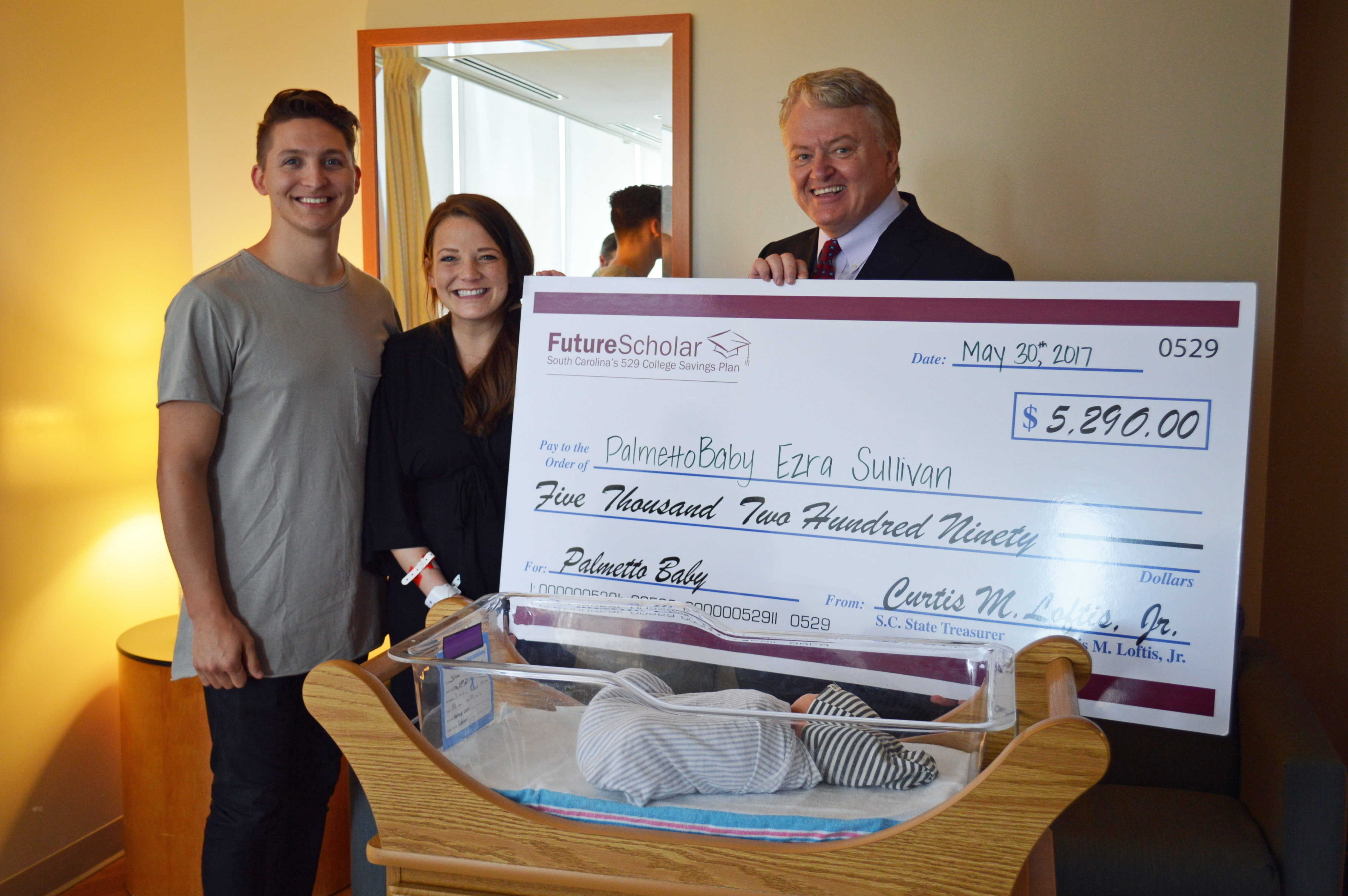 Treasurer Curtis Loftis traveled to Greenville Memorial Hospital to meet one of the PalmettoBabies. 
Ezra Sullivan was born on May 29, 2017. Treasurer Loftis delivered his $5,290 grant to him the next day. Ezra's parents were grateful for the jump start on college savings Future Scholar was providing.
"There's a lot of relief, you know there's a lot of pressure from the beginning that you need to be saving as soon as they're born," said new mom Elizabeth Sullivan. "But you know there's also hospital bills and other things you need to pay for the baby. So there's a lot of relief that there's a little bit of cushion to get us started."
All PalmettoBaby forms must be completed, signed, and received by September 1, 2017.
Visit Futurescholar.com/news-events/palmettobaby/ to learn more about the PalmettoBaby Grant Program.
About Future Scholar
Future Scholar is South Carolina's 529 College Savings Plan and is administered through the State Treasurer's Office. For more information, visit FutureScholar.com or follow on Facebook: @SCStateTreasurer.
No state funds are used to market the Future Scholar Plan or fund the PalmettoBaby Grant program.