State Treasurer Curtis Loftis announces SC maintains high credit ratings
June 7, 2022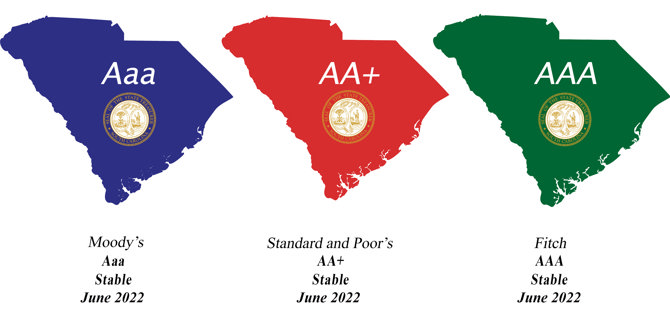 State Treasurer Curtis Loftis announced that South Carolina continues to receive an excellent response from the three major credit rating agencies.
In preparation for a general obligation bond issuance, Moody's Investment Services (Aaa) and Fitch Ratings (AAA) reaffirmed the Palmetto State's AAA rating, and Standard & Poor's Global Ratings also reaffirmed South Carolina's AA Plus rating (AA+). All three agencies assigned Stable Outlook to their ratings. South Carolina is one of only 13 states rated in the top category by Fitch.
"Our continued sound financial management coupled with increasing business activity and tax revenues have helped fuel South Carolina's strong economic recovery" Treasurer Loftis said. "I am very pleased that South Carolina was able to maintain our strong credit ratings, allowing us to access the lowest cost of capital in these uncertain economic times."
"We are grateful for our financial advisor PRAG and our state partners who participated on these rating calls to tell the positive financial news we continue to enjoy as a state," Loftis added.
The state will be executing a bond sale on June 9 in the amount of $101,255,000 in General Obligation State Institution Bonds (Series 2022A), issued on behalf of Clemson University, to support a number of campus building and improvement projects.  
The State Treasurer's Office is responsible for managing the borrowings of the State, its agencies and certain authorities through its Debt Management Division. The division works to borrow funds as efficiently and effectively as possible by securing the lowest rates and fees, while ensuring that the investment of the lenders, investors and bondholders is protected and secured.