S.C. Treasurer Curtis Loftis & Rep. West Cox Present Piedmont businessman $26,000 in Unclaimed Property
April 26, 2019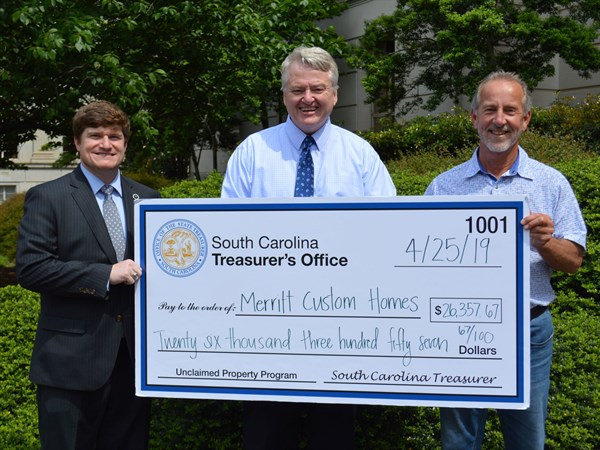 Left to Right: State Representative West Cox, State Treasurer Curtis Loftis and Piedmont business owner Richard Merritt pose with Mr. Merritt's $26,357.67 unclaimed property check.
State Treasurer Curtis Loftis and State Representative West Cox of Williamston made an upstate businessman's day when they presented him more than $26,000 in unclaimed property.  
Each year Treasurer Loftis asks members of the General Assembly to help find citizens and businesses with unclaimed property being held by the State Treasurer's Office. State representatives and senators were given names earlier in April, and Rep. Cox, who represents parts of Anderson, Greenville and Pickens counties, helped find Richard Merritt, owner of Merritt Custom Homes in Piedmont, SC.
"It's a great day when we can return unclaimed property back to our citizens and especially small business owners like Mr. Merritt," Loftis said. "This money came from MetLife stock that was returned to the state a few years ago. We appreciate Rep. Cox for his help in finding Mr. Merritt so we could return this money to him."
Merritt has been a home builder for 45 years and had previously done some work for Cox, which helped him to make the connection for the Treasurer's Office. Merritt wasn't sure what he was going to do with his newfound funds, but he was certainly appreciative of the Treasurer's efforts to return them to him.
Currently the State Treasurer's Office has more than $650 million in unclaimed property across the state. Millions of dollars are transferred to the program annually by companies that are unable to locate the rightful owners.
Examples of the types of property covered by the program include dormant bank accounts, uncashed checks, stocks, unclaimed insurance proceeds and forgotten utility deposits. The State Treasurer's Office serves as custodian of unclaimed funds and holds them until properly claimed.
Since 2011, Treasurer Loftis has returned more than $158 million in unclaimed property, more than all previous state treasurers combined. Check the State Treasurer's Office website to see if there is unclaimed property for you or your family.