SC's College Savings Plan Awarded National Top-Ten
September 14, 2015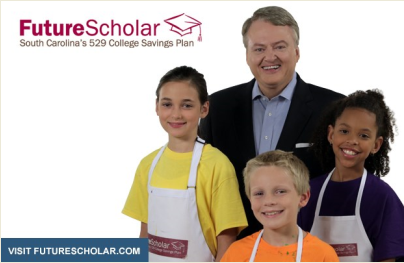 (Columbia, SC) – State Treasurer Curtis M. Loftis, Jr., is pleased to announce that South Carolina's 529 College Savings Plan Future Scholar has placed among the top ten 529 plans in the nation for performance over 1-, 3-, and 5- year periods in both the Direct and Advisor-Sold Plan categories, as of June 30, 2015. Future Scholar has also been recognized as having the fifth lowest cost 529 plan in the nation.
South Carolina's placement was published in the 529 Composite Performance Rankings, recently released by Savingforcollege.com. The top-ten performance ranking and the top-five lowest cost ranking were announced just in time for National College Savings Month in September and demonstrate both Future Scholar's consistently strong investment returns and its low management cost compared to other 529 savings plans across the country. Future Scholar is administered by the Office of State Treasurer Curtis M. Loftis, Jr.
"South Carolinians can be proud that Savingforcollege.com has ranked our State's 529 Plan as one of the best in the country with one of the most cost-efficient management contracts. I hope families across South Carolina will mark National College Savings Month in September by opening or adding to a Future Scholar account," said State Treasurer Curtis M. Loftis, Jr.
A 2012 re-negotiation of the Future Scholar Plan's program management contract by the Office of State Treasurer resulted in expanded investment options, a reduction of management fees, and the creation of a marketing campaign that utilizes no funds from the public treasury. The new and improved Future Scholar 529 plan continues to help more families save for higher education with 119,000 accounts and $2.4 Billion assets under management.
The Wall Street Journal has recognized South Carolina's Future Scholar plan as having the highest state tax deduction of any 529 plan in the country. Money Magazine called Future Scholar a leader in low fees and praised the contract re-negotiation, saying, "South Carolina eliminated program management fees and dropped investment expenses for in-state residents." Both Savingforcollege.com and Morningstar, organizations that evaluate 529 plans, have given South Carolina's Future Scholar plan high rankings compared to its peers.
The full reports showing rankings for all direct-sold 529 plans can be viewed at http://www.savingforcollege.com/articles/2015-plan-performance-rankings-q2-330. Rankings are updated each quarter. Past performance does not guarantee future returns.
The Savingforcollege.com fee study can be viewed at Lowest Cost 529 Plans.
To learn more about the Future Scholar 529 plan, visit www.futurescholar.com or contact a financial advisor. No funds from the public treasury are used in the marketing of the Future Scholar plan.