You Could Be Owed a Halloween Treat From S.C. Treasurer Curtis Loftis – Money
October 28, 2019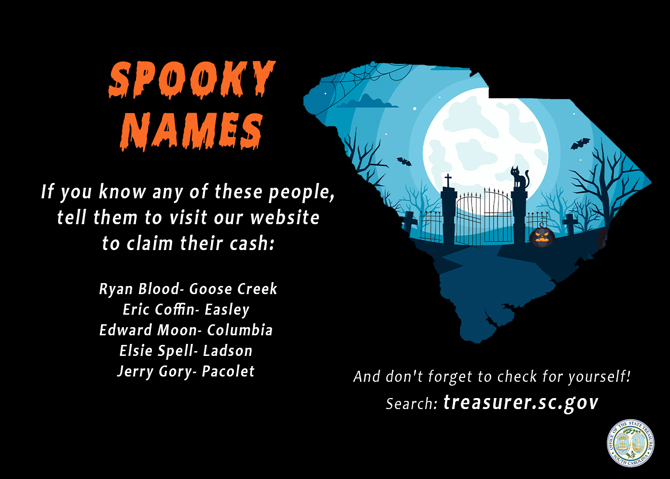 No tricks, State Treasurer Curtis Loftis may have a treat for you just in time for Halloween. In the spirit of the holiday, Treasurer Loftis has compiled a list of spooky names that are due money from the State Treasurer's Office Unclaimed Property Program.
"We have more than $650 million in unclaimed funds for South Carolinians, and it only takes a few minutes to check and see if we're holding money for you or your loved ones," said Treasurer Loftis. "The real fright this Halloween would be passing up the opportunity to search and missing out on cash that's rightfully yours."
Millions of dollars are transferred to the Unclaimed Property Program annually by companies that cannot locate the owners. Examples of the types of property covered by the program include dormant bank accounts, stock certificates, un-cashed checks (including paychecks), insurance proceeds and utility deposits.
Here are a few individuals and businesses that are entitled to a treat this Halloween:
Ryan Blood – Goose Creek
Eric Coffin – Easley
Jerry Gory – Pacolet
Jennifer Mask – North Charleston
Monster Ink Tattoos – Piedmont
Edward Moon – Columbia
Rubies Costume Co – Mauldin
Deborah Skeleton – Anderson
Elsie Spell – Ladson
Spider Man Towing LLC – Rembert
Ferris Treat – Williamston
David Trick – Murrells Inlet
Wicked Witch Lounge – Myrtle Beach
If you don't see your name listed, have no fear – you could still be owed unclaimed funds. To see if you have a treat at the State Treasurer's Office, you can visit treasurer.sc.gov.