State Treasurer Curtis Loftis announces Moody's has affirmed the State's Aaa credit rating; outlook stable
December 18, 2019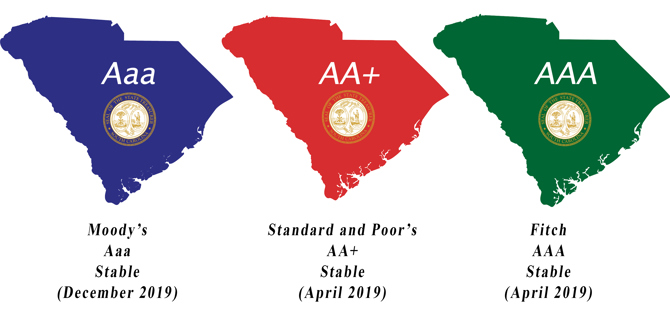 State Treasurer Curtis Loftis announced that Moody's Investment Services has affirmed South Carolina's Aaa credit rating. Further, the outlook for the state's rating was deemed stable, given the expectation that its conservative financial management will adjust accordingly in the event of an economic downturn.  
"South Carolina has a great story to tell, and I am pleased that Moody's affirmed the steps we have taken to address our cash reserves and pension liabilities," Treasurer Loftis said. "Low unemployment, continued economic growth and building our state's cash reserves since the 2008 recession have all contributed to improving the state's economy. Just as important, having a Aaa credit rating allows us to borrow money less expensively."
Analysts from Moody's visited South Carolina on December 4, meeting with the Treasurer and his staff along with representatives of the State Fiscal Affairs Authority, Revenue and Fiscal Affairs Office, Palmetto Employment Benefits Authority (PEBA), the Retirement System Investment Commission (RSIC), South Carolina Department of Commerce, Department of Administration and Public Resource Advisory Group (PRAG), the state's financial advisor.
As a result of the presentations made and information provided, analysts said the state's general obligation rating was maintained in part due to the state's fiscally responsible financial management and strong economic growth.