State Treasurer Curtis Loftis Reminds Seniors and Their Families to Check for Unclaimed Property
July 16, 2018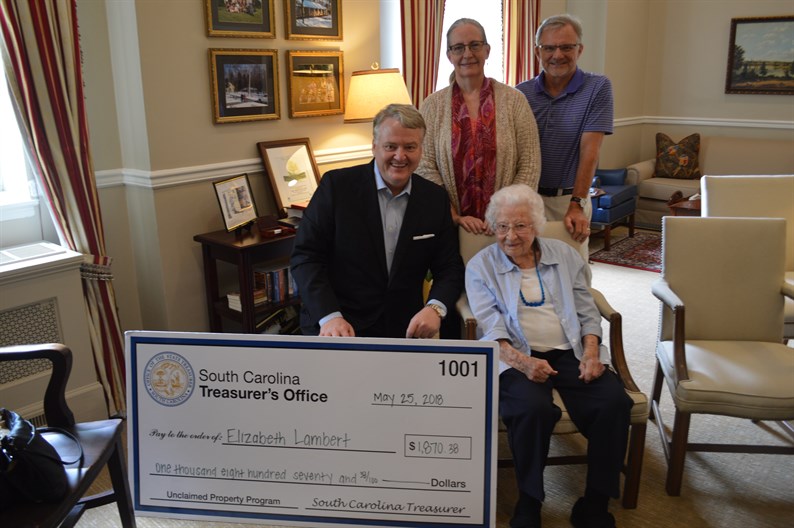 Treasurer Loftis presents Elizabeth Lambert with $1870 in unclaimed property, along with her daughter and son-in-law, MaryBeth and Tim McSwain.  
At age 100, Elizabeth Lambert, a former state employee, is among thousands of South Carolinians who have received money from the state's unclaimed property program.
"There are a lot of seniors out there who would benefit from additional money – funds that could be used to pay for such expenses as housing, medicine and long-term care," Treasurer Loftis said. "I would urge adult children to go online and see if their parents and other older relatives have money that's due them."
Recently, Mrs. Lambert, who resides in Blythewood, learned about her unclaimed property through her son-in-law's sister, who heard about the program, administered by the Treasurer's Office, and began looking up the names of relatives. She was pleasantly surprised to find $1,870 from a pair of life insurance policies that belonged to her.
"Approximately 40 to 50 percent of unclaimed property is left by people who have died," Treasurer Loftis said. "Many times the heirs themselves are older and may not be fully adept at searching for unclaimed funds online. That's where relatives can help."
Mrs. Lambert stopped by the Treasurer's Office to not only pick up her check but to spend time with Treasurer Loftis, showing off photos of her early days in state government, including images of the State House grounds taken before many of the current structures were built.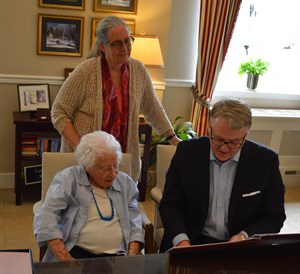 In 1935, at the height of the Great Depression, Mrs. Lambert began working for Attorney General John Daniel inside the State Capitol Building. The next year, she was hired by the newly created Unemployment Compensation Commission for $100 a month. She was told she would start being paid as soon as the agency received its funding.
"I don't know many people who would take a job without knowing when they would get paid," said Treasurer Loftis. "Mrs. Lambert reminded me why her generation is referred to as the Greatest Generation.  It was a privilege to spend time with her, and I'm delighted we were able to return these funds to her."
Mrs. Lambert said she has no special plans for the money and said she might just give it to her daughter and son-in-law.
Treasurer Loftis and the Unclaimed Property Program returned nearly $33 million in 2017.
Currently, the State Treasurer's Office has more than $550 million in unclaimed property across the state. Millions of dollars are transferred to the program annually by companies that cannot locate the owners. Examples of the types of property covered by the program include dormant bank accounts, uncashed checks, unclaimed insurance proceeds and forgotten utility deposits. The State Treasurer's Office serves as custodian of unclaimed funds and holds them until claimed by the rightful owners.
You can visit the www.treasurer.sc.gov to see if there is unclaimed property for you or your family.