Another Reason to Give Thanks – Finding Your Unclaimed Cash
November 25, 2019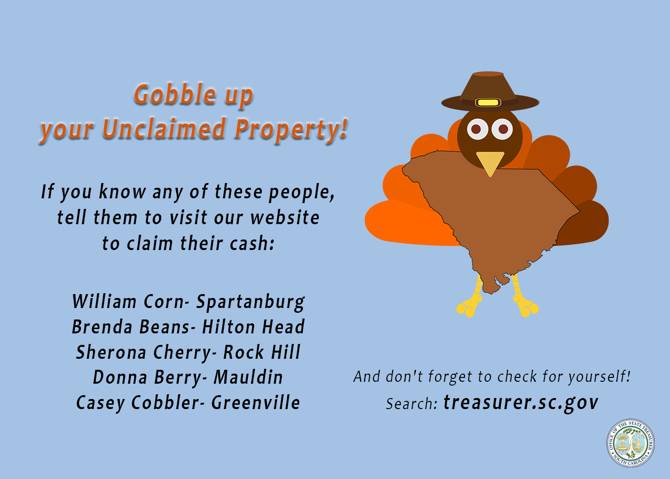 You may have a bountiful harvest of cash waiting for you at the State Treasurer's Office this Thanksgiving. Just in time for the holiday, State Treasurer Curtis Loftis has found some sweet and savory names inspired by Thanksgiving favorites that are owed money from the office's Unclaimed Property Program.
Millions of dollars are transferred to the Unclaimed Property Program each year by companies that cannot locate the owners. Currently, the State Treasurer's Office has more than $650 million in unclaimed money due to past and present South Carolina residents, businesses and organizations. The State Treasurer's Office serves as custodian of the funds until they are claimed by the rightful owners.
"Holidays provide a perfect opportunity for friends and families to spark a discussion as they gather for celebrations. This year, instead of asking your niece about who she's dating or debating politics with Uncle Vernon, ask the dinner table if they've searched their name for unclaimed property," said Treasurer Loftis. "With the holiday season being an expensive time of year for many, you just might help someone find another reason to be thankful."
Examples of unclaimed property include dormant bank accounts, uncashed checks (including paychecks), unclaimed insurance proceeds, forgotten utility deposits, uncashed dividend checks and unexchanged shares of stock.
Here are a few individuals and businesses that have unclaimed property to gobble up:
Ryan Bean – Summerville
Brenda Beans – Hilton Head
Donna Berry – Mauldin
Sherona Cherry – Rock Hill
Casey Cobbler – Greenville
William Corn – Spartanburg
Taylor Dressing – Fort Mill
Nancy Ham – Darlington
Thomas Ham – Fairforest
Marvelous Pies – Travelers Rest
Pecan Plantation – Florence
Squash Casserole Inc – Isle of Palms
Turkeys Towing – Charleston
Yam Vann – Spartanburg
To see if there's any unclaimed property being held for you or anyone you know, you can visit treasurer.sc.gov.