This St. Patrick's Day – Prepare to Be Lucky
March 1, 2019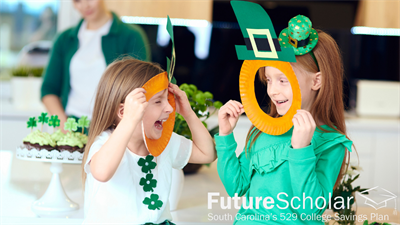 St. Patrick's Day is a fun holiday. We've all enjoyed searching for shamrocks and celebrating the luck of the Irish. But most of us would agree that "luck" is made from hard work – not found.  I've certainly never known anyone who's had the kind of luck, Irish or otherwise, that would help locate a pot of gold at the end of a rainbow. 
Instead, I'd have to agree with an ancient Roman adage that says, "Luck is a matter of preparation meeting opportunity."
And when it comes to education, the lucky student is the one whose family has prepared for the costs associated with earning a college degree. That kind of preparation will afford a young graduate the opportunity to begin his or her professional life without crushing debt.
My office has worked hard to make Future Scholar, South Carolina's 529 College Savings Plan, a smart way for you to prepare for your student's own "luck." You can open an account on-line right now. It's easy since there's no minimum amount you're required to contribute.
And you're sure to feel lucky when you know that Future Scholar is one of the best 529 plans anywhere. Forbes recently named South Carolina one of the five states where you can find the best savings plans, and it named Future Scholar to its list of the five top-performing plans over the past decade.
Feeling lucky yet? There's more. Account owners who contribute to their Future Scholar savings account all the way up to April 15, 2019 can deduct 100 percent of their contributions from their 2018 South Carolina tax returns – your very own pot of gold.
With Future Scholar, your preparation leads to opportunity for your loved ones, so open an account and begin saving today.
You can be sure that when it comes time for college, they'll feel "lucky" you did.
About the Author:
Curtis Loftis is South Carolina's State Treasurer. He administers the Future Scholar 529 College Savings Plan. Visit treasurer.sc.gov or futurescholar.com for more information on ways to save through a 529 plan.