Treasurer Curtis Loftis and PalmettoBaby featured by Opportunity Lives
May 27, 2016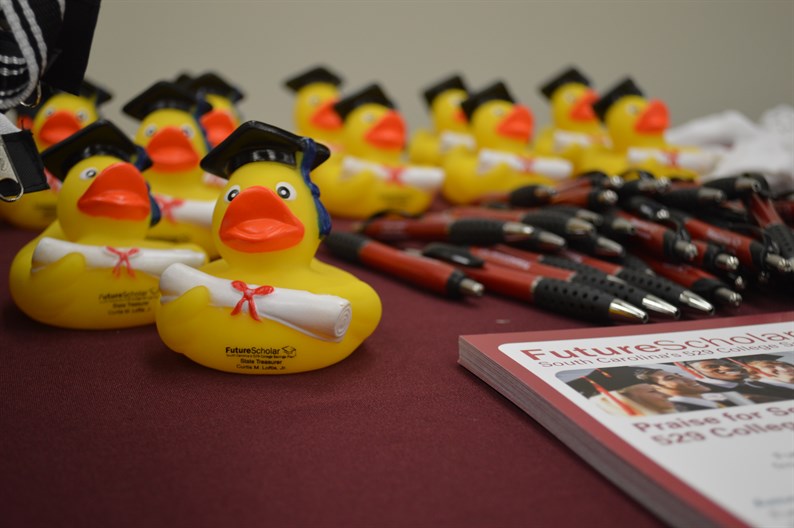 From www.opportunitylives.com 
By Derek Kreifels   May 27, 2016
Some newborns in South Carolina will be $529 richer thanks to State Treasurer Curtis M. Loftis, Jr. Loftis recently announced that the Palmetto state would be gifting a $529 Future Scholar savings plan to every baby born on Sunday, May 29 — National 529 Day.
Future Scholar is the name of South Carolina's state 529 college savings program. The funds for the accounts are not coming from state taxpayers but rather from the fund manager of the Future Scholar program, Columbia Threadneedle.
While the day has not quite achieved "Hallmark holiday" status, the 529 College Savings industry has used 5/29 to bring attention and raise awareness about saving for a college education.
Loftis' office estimates that some 200 babies will be born statewide this Sunday. The treasurer is hopeful that others will learn about the benefits of a 529 college savings plan and that this creative promotion will spur others to open an account for their children.
"A Future Scholar savings plan is the best way to set our loved ones on the path to a debt free college education," Loftis said. "A privately funded Palmetto Baby grant for $529 is a great way to encourage families across South Carolina to save for college."
Several other state treasurers are also promoting 529 savings plans in conjunction with National 529 Day.
In Mississippi, Treasurer Lynn Fitch sponsored another creative giveaway. College Savings Mississippi hosted a "Race to College" relay during each of six state championship baseball games on May 19-20. Two contestants were randomly chosen from entrants to participate at each race. Each contestant raced to designated stations to submit a mock Mississippi Affordable College Savings (MACS) application, deposit funds into the 529 account, put on a backpack to go to college, and finally receive a cap and gown to run back to the starting line. The first to finish in each relay won a $529 scholarship.
"Our scholarship opportunity, in the form of a relay race, is a great visual displaying the many steps needed to get your child to college," Fitch said. "My hope is this opens a lot of parents' eyes to the process and motivates them to think about their family's future."
Fitch likened saving for college to economic development in Mississippi.
"When families are proactive about their child's future and take that step to prepare, they are not only helping themselves, they're also boosting the economic future of our state," she said.
The Indiana CollegeChoice 529 plan and Treasurer Kelly Mitchell's office are giving away one $1,529 scholarship towards one of their plans. Kansas Treasurer Ron Estes' office has teamed up with the world champion Kansas City Royals baseball team to promote his state's program the Learning Quest 529 Education Savings Plan. Nevada Treasurer Dan Schwartz's office is promoting the SSGA Upromise 529 plan with 10 $529 account giveaways. In Georgia, the Path2College 529 Plan will be awarding a $1,529 scholarship for the first baby born in two different Georgia hospitals.
Some quick facts to remember about 529 College Savings Plans.
Most plans allow accounts to be opened with a minimal investment. In many cases as little as $25.

Earnings on 529 accounts are tax free. No state or federal taxes are applied to any earnings on qualified withdrawals. And some states offer a state tax deduction for contributions made to a 529 plan.

Money from a 529 account can be used at any accredited school in the United States, regardless of which state's plan was used.

You do not have to invest in your home state's 529 plan.

529 funds may be used for a variety of qualified expenses. Qualified expenses include: mandatory fees, books, supplies, computers, equipment required for enrollment or attendance, and certain room and board costs.

Any U.S. citizen or resident alien at least 18 years old is eligible to open a 529 account or give one as a gift.
So next time you're able to save on the cost of tuition, your state treasurer might very well deserve the credit.
Derek Kreifels is a contributor for Opportunity Lives and the President of the State Financial Officers Foundation. You can follow him on Twitter @dkreifels.