Treasurer Curtis Loftis Awards Greer Family $529 for Future Scholar Account
November 20, 2017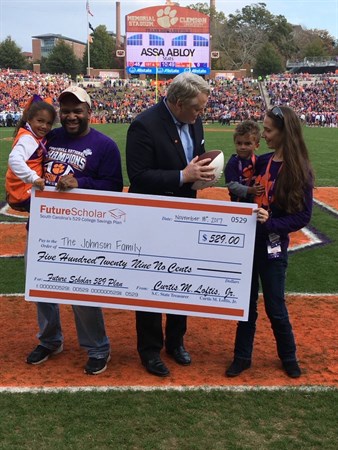 Five-year-old Lillie Johnson and her 3-year-old brother Andrew share one common interest: Clemson football.
While both are still many years away from college, State Treasurer Curtis Loftis helped their parents start saving for college for these Tigers-in-waiting by giving the family a $529 contribution to go into a Future Scholar 529 college savings plan.
Lillie and Andrew's parents Megan and C.J. Johnson of Greer are both Clemson University graduates and all four have been to every home game over the past two years, along with last year's ACC championship contest and the Fiesta Bowl.
The four were recognized at Saturday's Clemson-Citadel football game as winners of the Future Scholar Holler Sweepstakes sponsored by the Treasurer's Office. The Johnson family won $529 towards their Future Scholar college savings account, along with four tickets to the game, sideline passes and a football signed by Clemson football coach Dabo Swinney.
"Rising college costs show no sign of slowing, and the 529 Future Scholar program is the smart, easy and affordable way for parents to put aside money to pay for their children's university expenses," Treasurer Loftis said. "There's no crystal ball to tell us what college will cost when Lillie and Andrew are ready to enroll, but Future Scholar can help ensure they'll have money to pay for it."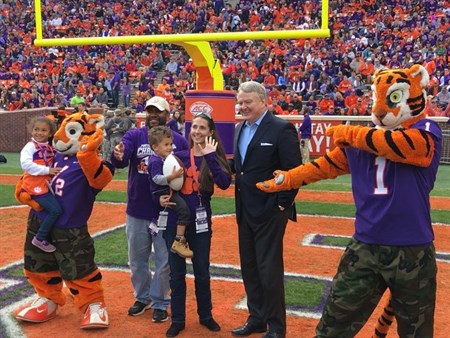 Lilly is in the 5K Montessori program at Lakeview Elementary School and enjoys dancing, singing and Tiger football. Andrew is enrolled in the K3 program at Kids World. He enjoys trucks, tractors and dinosaurs, along with Clemson football.
Learn more about Future Scholar by going to www.futurescholar.com