Treasurer Curtis Loftis Commends The Post & Courier for Pension Article
December 5, 2016
Treasurer Curtis Loftis was encouraged to see an in-depth, investigative article about our state's crippled pension system on the front page of Sunday's edition of The Post and Courier.
"Fighting the pension issue has been a long and lonely struggle. I am thankful for this outstanding article by The Post and Courier makes many points that I have spoken to over these last 5 years," said State Treasurer Curtis Loftis. "I hope with this article, and perhaps others to come, that the reporting of this crisis facing our pension system goes mainstream and a viable solution will be sought and implemented."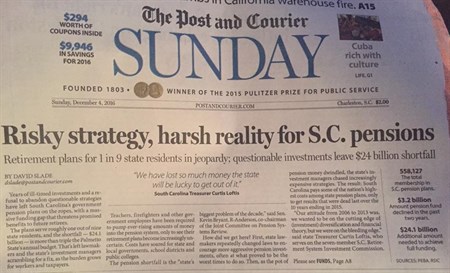 Front page of The Post and Courier on December 4, 2016
The article highlights the pension fund's troubled history and also points out the mistakes made by the leadership at the Investment Commission, which caused the high fees and low returns that contributed to the $24 billion pension debt.
According to the Post and Courier, in 2014, Georgia's pension system fared better than South Carolina's. A key difference was that South Carolina paid $156 in investment expenses for every $10,000 invested while Georgia paid $13.
Treasurer Loftis, a nationally recognized leader in state pension reform said, "The Retirement System has created a huge deficit that the taxpayers are going to have to make up. It's not fair that working people are going to have to cover for mistakes made by a handful of government officials."
 "I think we passed the tipping point — I believe the system has to be altered. To fix the plan now is going to be an outrageously expensive proposition," Treasurer Loftis told The Post and Courier. "I believe 2017 is our last chance to fix the system at a cost we can afford."
See the full article from The Post and Courier: South Carolina's looming pension crisis