Treasurer Curtis Loftis Identifies Nearly $200,000 in Unclaimed Property for S.C. Public Schools
March 1, 2018
State Treasurer Curtis Loftis identified nearly $200,000 in unclaimed funds for South Carolina school districts Thursday.
Treasurer Loftis identified a total of $193,697.38 of unclaimed property, with money being made available to 77 of the Palmetto State's 81 districts during Thursday's meeting of the S.C. Association of School Administrators in Columbia.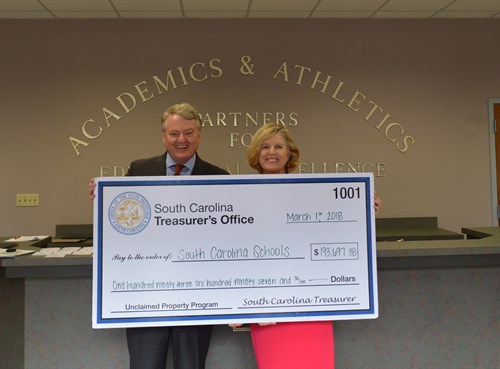 "Knowing the financial challenges these administrators face on a daily basis makes returning unclaimed property to our schools especially gratifying," Treasurer Loftis said. "This money can make a meaningful impact for our students, and we want to reunite the school districts with funds that rightfully belong to them."
Eleven school districts were identified as having more than $5,000 in unclaimed property, including four with more than $10,000, topped by Richland School District 2 at $36,354.
"Every dollar counts when it comes to providing better schools and brighter futures for South Carolina students. I appreciate Treasurer Loftis recognizing the importance of education and know that our schools and districts will put these funds to good use," said S.C. Superintendent of Education Molly Spearman.
Several rural school districts received substantial claims, including: Sumter, which received more than $7,000 in unclaimed funds; Jasper, more than $3,600; Dillon 4, more than $3,300; Barnwell 19, more than $2,700; and Allendale, nearly $2,300.
Other major recipients were: Laurens 56, with more than $11,700; Greenville, more than $11,000; and Anderson 5, more than $10,500.
Some of the unclaimed funds dated back to the early 1970s or even earlier.
Currently the State Treasurer's Office has more than $550 million in unclaimed property across the state. Millions of dollars are transferred to the program annually by companies unable to locate owners. Examples of the types of property covered by the program include dormant bank accounts, uncashed checks, unclaimed insurance proceeds and forgotten utility deposits. The State Treasurer's Office serves as custodian of unclaimed funds and holds them until properly claimed.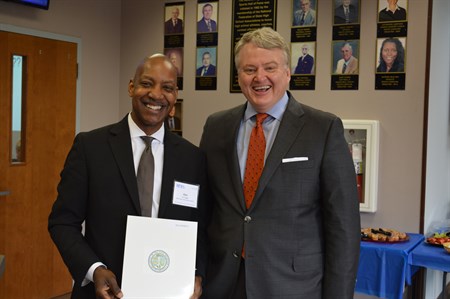 Treasurer Loftis and the Unclaimed Property Program returned nearly $33 million in 2017, bringing the total amount of money returned during his administration to $137 million, more than all previous state treasurers combined.
You can visit the www.treasurer.sc.gov to see if there is unclaimed property for you or your family.
Treasurer Curtis Loftis with Superintendent Don Doggett of McCormick County School District