Treasurer Curtis Loftis Returns Thousands in Unclaimed Property in the Upstate
April 27, 2017
Treasurer Curtis Loftis traveled to Greenville Wednesday to return thousands of dollars in unclaimed property to the Salvation Army and two upstate Fire Departments.
The Salvation Army of Greenville, the Slater Marietta Fire Department and the Tigerville Fire Department all had unclaimed property waiting for them. Treasurer Loftis met officials at each location to return their unclaimed property.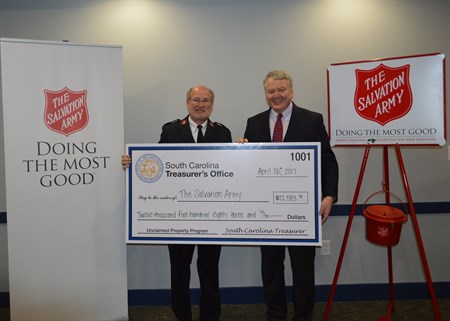 The Salvation Army of Greenville had $12,583.70 in unclaimed property.
Pete Costas, the Salvation Army Area Commander in the Upstate, was excited about the unclaimed property. "The Salvation Army as a whole is very excited as well," said Costas. "This starts our dry period of funding, of course we do our major fundraising at Christmas time and we get now into April and May and funds slow down. So this is really a windfall for us. It's going to help us to continue to serve people, to meet family needs with emergencies, to shelter people and to meet the needs of those who are really less fortunate in our community."
"It's the best part of my job," said Treasurer Curtis Loftis. "Some of my staff is here, and they are very good at what they do. They love reuniting people with their money. This $12,000 took a while to get to you, it was sent to an old address I understand but now we're returning it to you."
"It's just out of the blue," added Costas. "It's like a Godsend at this time."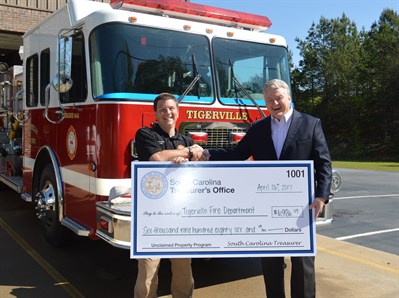 Treasurer Loftis loved traveling to the fire departments to return their unclaimed property as well.
The $6,986.09 in unclaimed property for the Tigerville Fire Department came from the Greenville Treasurer's office. Fire officials there said they are excited about being able to use it within their community.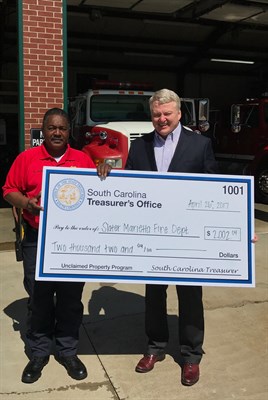 The Slater Marietta Fire Department received$2,002.04 in unclaimed property. Fire Chief Marion Cruell said they are so grateful for the money.
"This money will help purchase equipment for the firefighters," said Cruell. "You know, we're a small rural district and any money we can get to help take care of our taxpayers is well blessed."
You can click here to see if the State Treasurer's Office is holding unclaimed property for you or members of your family.