Treasurer Curtis Loftis Talks Unclaimed Property
May 10, 2017
<Macro: (,)>
 Asa Aarons Smith is a Consumer Reporter for WJCL in Savannah, GA.
Treasurer Curtis Loftis recently sat down with Consumer Reporter Asa Aarons Smith to talk about what's real when it comes to unclaimed property.
Someone calling and saying they have money waiting to be claimed in your name sounds like the stuff scams are made of, but when it comes to unclaimed property, it can be completely true. Treasurer Loftis even drove from Columbia to Charleston to prove to someone he was the real deal.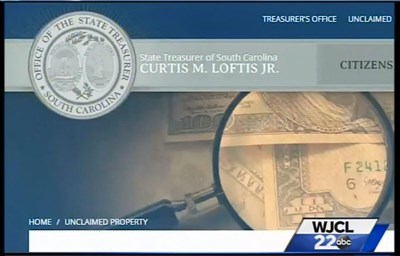 "His father was a working class guy, but he had some stock. And he let that stock sit there, and it was good stock, Duke power," said Treasurer Loftis. "I had to call him several times. Finally I said I'm in Columbia, I'll drive to Charleston and I'll meet you there. We'll meet in a public place like Starbucks and I'll bring you the paperwork. Then he recognized me, all worked out well, so it was a lot of fun. He got his $763,000."
Consumer Reporter Asa Aarons Smith says you do need to be wary of anyone trying to charge you to collect missing or unclaimed funds. Before agreeing to anything, check with your state first.
"You really don't have to pay any money to receive this. If you deal with your state it's always free," added Treasurer Loftis.
Make sure you check these two national websites if you have every lived in a state besides South Carolina:
You can click here to see if the State Treasurer's Office is holding unclaimed property for you or members of your family.