Treasurer Curtis Loftis Welcomes College Savings Foundation to Charleston
March 15, 2017
College savings experts, state treasurers, financial services and investment professionals from across the country convene in Charleston today to address key issues and innovations enabling families to save for their children's college education.
College Savings Foundation's "College Planning Challenges and the Role of 529 Plans" will kick off at 8:30 a.m. at Hyatt Place in Charleston, SC. South Carolina Treasurer Curtis Loftis, who has served as State Treasurer since 2011 and is the administrator of South Carolina's Future Scholar College Savings Plan, welcomes the College Savings Foundation to his state.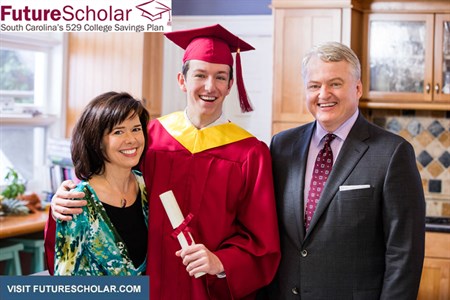 "Saving for college is one of the most significant and rewarding financial decisions a person can make. With the challenges and costs of paying for higher education growing by the year, it's crucial to spread awareness about the ease and importance of saving with 529 college savings plans—and the College Savings Foundation Conference does just that." said South Carolina Treasurer Curtis Loftis. "We are thrilled to take part in these important college savings conversations and welcome everyone to the wonderful Palmetto State."
Sheila Bair, former Chair of the FDIC from 2006-2011, will speak Wednesday March 15 at 8:45 a.m. on the bold initiatives she has launched as President of Washington College to reward savings, freeze tuitions, reduce college debt, to better prepare young students to enter the workforce, possibly begin graduate school, purchase their first home and start a family.
The Conference will cover a variety of topics, including a series of sessions on Achieving a Better Life Experience (ABLE) Act enabling savings for people with disabilities; New Models and Innovative Technologies to help families prepare and plan for college; and Reaching Millennials.  
"CSF is proud to join Treasurer Loftis in encouraging families from South Carolina and the nation to save for their children's higher education," said CSF Chair Richard Polimeni. "Not only does college saving help students reduce their dependence on student debt, but it also prepares them to be more successful in a competitive workforce."
CSF is a leading nonprofit helping American families save for higher education, which can include traditional four-year colleges, as well as community colleges and vocational school.
Media are invited to speak to Treasurer Loftis on the importance of college savings, contact Emily Corsig at Emily@rosengrouppr.com.
To attend the Conference March 15, 8:30 am through Thursday, March 16 at 12 noon, or obtain a conference agenda, contact Lynthia Romney at romneycom@gmail.com or 914-589-2140.