Treasurer Loftis Announces New Commissioner of Bank Examining Division
January 20, 2017
Columbia, SC - State Treasurer Curtis Loftis announced today that Robert L. Davis has been named Commissioner of the Bank Examining Division of the State Board of Financial Institutions.
Mr. Davis will oversee a division responsible for preserving the safety and soundness of State chartered banks, savings and loan associations, savings banks, trust companies, and credit unions.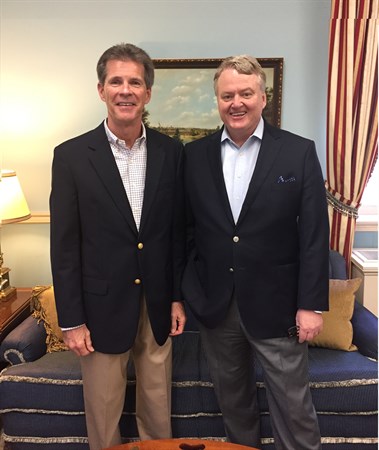 "Mr. Davis brings a wealth of public and private sector experience to the Board. His background in law and finance make him a valuable asset and I look forward to working with him," said Treasurer Loftis.
Mr. Davis has over 38 years of experience in legal and financial matters as well as extensive experience in litigation, regulatory, compliance, legislative, and corporate governance issues.
In addition to previously holding the position of Executive Vice President/ General Counsel for First Financial Holdings, Inc./First Federal Bank in Charleston, SC, Mr. Davis also brings experience from the Federal level, having worked for the Office of the Comptroller of the Currency as Assistant Director of the Enforcement and Compliance Division in Washington, DC.
Mr. Davis is a graduate of McDaniel College and the University Of Baltimore School Of Law. He also earned a Certificate, with Honors, from the Stonier Graduate School of Banking at the University of Delaware.
Treasurer Loftis, the Chairman of the Board, also commented on the value of state chartered financial institutions in the state.  "Our state chartered institutions help form the backbone of our local communities.  They strive to be close to the citizens of South Carolina and serve their needs."
The State Board of Financial Institutions supervises State chartered banks, credit unions, and savings and loans through the Bank Examining Division and supervises mortgage originators and lenders, finance companies, pay day lenders, and title lenders through its Consumer Finance Division.  Treasurer Curtis Loftis is the Chairman of the Board of Financial Institutions.
###