Treasurer Loftis visits with Boys/Girls State
June 14, 2013

(Columbia, SC) – State Treasurer Curtis Loftis took part in the annual Boys/Girls State event Friday, June 14 at 10:45 a.m. at the Statehouse.
Treasurer Loftis led the elected high school treasurers down the Statehouse steps.  More than 900 rising seniors are nominated each year by their high school teachers and counselors to be delegates or "citizens" at Boys State. Those nominated are then interviewed and selected by the local American Legion Post. As part of the program, students form cities and elect leaders with the same titles as statewide elected officials.
"This event is such a tribute to the youth of South Carolina, it is something I certainly would not want to miss," Treasurer Loftis said.  "These high schoolers are poised to be our future leaders; they are such gracious young people to talk with.  The work these young men and women put into being in Boys/Girls state is to be commended and it is truly an honor to help lead the duly-elected treasurer's down the Statehouse steps."
VIDEO OF TREASURER LOFTIS AT 2013 EVENT WITH STUDENT STATE TREASURERS

The American Legion founded the Boys/Girls State program to teach students about government and politics. The program is intended to spark interest and pride in government on a local level as well as the national scope. The greatest aspect of the program is that the participants learn by doing including running for office and being elected.
"It is truly a reminder of who we work for when you see the Statehouse steps packed with some of the state's best and brightest and having a chance to talk with proud parents from across South Carolina who come to Columbia for this event," Treasurer Loftis said.  "I will put any of those students up against kids from across the country and know that they'll make South Carolina proud."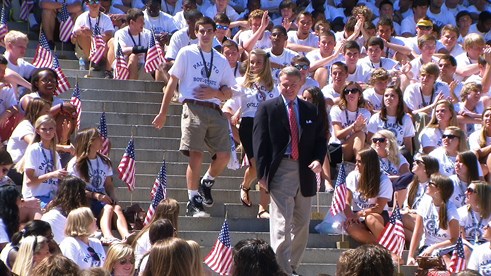 Treasurer Loftis attending 2012 Boys/Girls State 

Treasurer Loftis attended last year's event, for a photo gallery click here.
###