Unclaimed Property Has Gone to the Dogs
April 24, 2017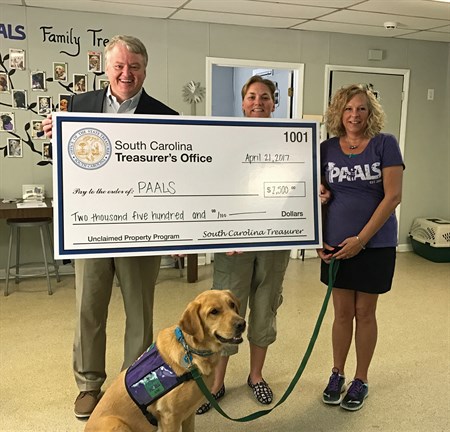 Unclaimed Property has gone to the dogs, literally!
Treasurer Curtis Loftis and the Unclaimed Property Program returned $2500 in unclaimed property to Palmetto Animal Assisted Life Services (PAALS).
"I'm thrilled we were able to reunite PAALS with their money," said Treasurer Loftis. "I know every penny counts when it comes to non-profit organizations, and it's great that they were able collect their unclaimed property."
Treasurer Curtis Loftis presented the check to PAALS Executive Director Jen Rogers and Development Coordinator Mitzie Renwick.
"We're so grateful to have gotten this," said Rogers. "And we have our summer camp program that's about to start so this is going to help pay for some of the supplies that I wasn't sure how we were going to help budget for and also some new puppies that are coming."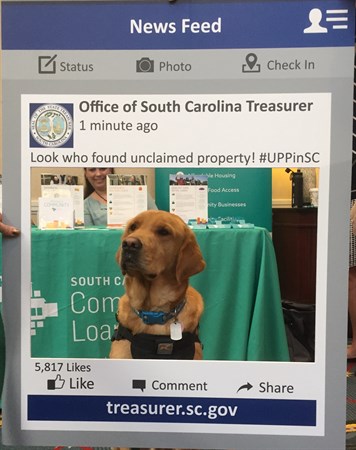 PAALS is a 501(c)(3) charitable organization committed to enriching and empowering children and adults with physical disabilities and social needs by training service animals and providing animal assisted educational and recreational activities. PAALS trains animals to assist people with varying abilities to live more independent and enriched lives by providing them with assistance dogs.
You can click here to see if the State Treasurer's Office is holding unclaimed property for you or members of your family.