Division Introduction: Future Scholar College Savings Program
May 12, 2017
State Treasurer Curtis Loftis wants the South Carolina taxpayer to know what each division does in the State Treasurer's Office.
The Future Scholar 529 College Savings Plan manages the 529 college savings plan sponsored by the State of South Carolina and administered by the Office of State Treasurer, Curtis Loftis.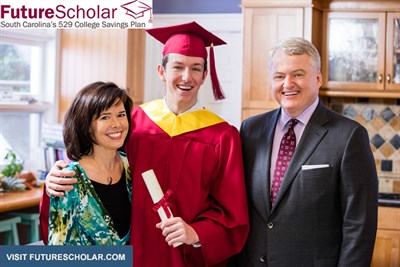 The State Treasurer's Office holds the funds in trust and it's the office's obligation to provide public access to an easy, tax-advantaged way to save for the cost of future college expenses.
It also continues to monitor The Tuition Prepayment Program, which the General Assembly closed to new entrants in 2008. 
"The Future Scholar 529 College Savings Plan really is the smart, easy way to save," said Treasurer Loftis. "Parents and Grandparents should take advantage of such a great program to help save for their child's education."
Learn more about Future Scholar.