No Tricks, Just Treats – S.C. Treasurer Curtis Loftis Could Have Money for You
October 29, 2018
Just in time for Halloween, Treasurer Curtis Loftis has scared up a list of names that are owed unclaimed property.
"No costume is necessary to receive this sweet treat," said Treasurer Loftis. "It's frighteningly easy to see if you or anyone you know is due unclaimed funds. Just head to our website and search your name."
Currently, the State Treasurer's Office has more than $550 million in unclaimed property available to give back to South Carolina citizens, businesses and organizations. Millions of dollars are transferred to the program annually by companies that cannot locate the owners. Here are a few individuals and businesses that are entitled to a treat this Halloween: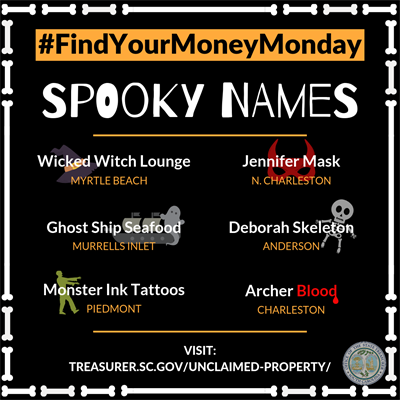 Wicked Witch Lounge - Myrtle Beach
Rubies Costume Co - Mauldin
Ocean Potion Suncare Inc - Myrtle Beach
Ghost Ship Seafood - Murrells Inlet
One October Entertainment - Greenville
Spider Man Towing LLC - Rembert
Monster Ink Tattoos - Piedmont
Palmetto Candy Company - Columbia
Jennifer Mask - North Charleston
Deborah Skeleton - Anderson
Archer Blood - Charleston
Wilson Spells - Laurens
David Trick - Murrells Inlet
The Pumpkin Man - Surfside Beach
Mummys Lil Monsters - Moncks Corner

Examples of unclaimed property include dormant bank accounts, uncashed checks, unclaimed insurance proceeds and forgotten utility deposits. The Treasurer acts as custodian of these funds until they are claimed by their rightful owners.
During his administration, Treasurer Loftis has returned more than $158 million in unclaimed property, more than all previous state treasurers combined.  
You can visit the www.treasurer.sc.gov to see if there is unclaimed property for you or your family.