SC Board of Financial Institutions Announces National Accreditation of Office of the Commissioner of Banking
November 7, 2018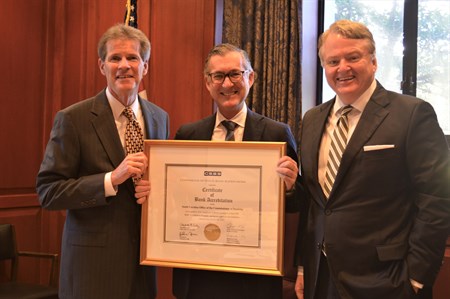 S.C. Banking Commissioner Robert Davis receives the Certificate of Accreditation from CSBS President and CEO John Ryan, pictured along with State Treasurer Curtis Loftis.
The South Carolina Board of Financial Institutions announced today that its Office of the Commissioner of Banking has received accreditation from the Conference of State Bank Supervisors (CSBS).
CSBS President and Chief Executive Officer John Ryan presented the Certificate of Accreditation to State Treasurer Curtis Loftis and State Commissioner of Banking Robert Davis at the Board's November meeting held in Columbia.
The accreditation process which began in 2017 is the culmination of an effort by the Office of the Commissioner of Banking to ensure the agency's policies, procedures, examination capabilities and operations meet the national best practices standards established CSBS.
"I am very proud that we have achieved accreditation from the Conference of State Bank Supervisors," Commissioner Davis said.  "This accomplishment is evidence of the significant work performed by numerous individuals in the agency over the past two years.  We will continue to evolve the office and keep pace with the industry and institutions that we supervise in South Carolina."
The goal of the CSBS Accreditation Program is to help state bank regulatory agencies enhance their capabilities to supervise and regulate their state-chartered depository institutions with a minimum of regulatory burden and cost, and to assist them in achieving that capability.
"As Chairman of the Board of Financial Institutions, I want to congratulate Bob and his team for the hard work they put into this accreditation process," Treasurer Loftis explained. "Staying abreast of the latest policies, regulations and best practices of this ever-changing industry is vital for ensuring that our state-chartered banks are keeping pace with their peers."
About CSBS
The Conference of State Bank Supervisors supports state regulators in advancing the system of state financial supervision by ensuring safety, soundness and consumer protection; promoting economic growth; and fostering innovative, responsive supervision.
About the South Carolina Office of the Commissioner of Banking
The Office of the Commissioner of Banking is responsible for the chartering, supervision and examination of all state-chartered banks, savings and loan associations, savings banks, credit unions and trust companies.
For more information on the Office of the Commissioner of Banking, please visit banking.sc.gov.