State Treasurer Curtis Loftis Recognizes Erica Williams of Redcliffe Elementary as Educator of the Month
February 27, 2019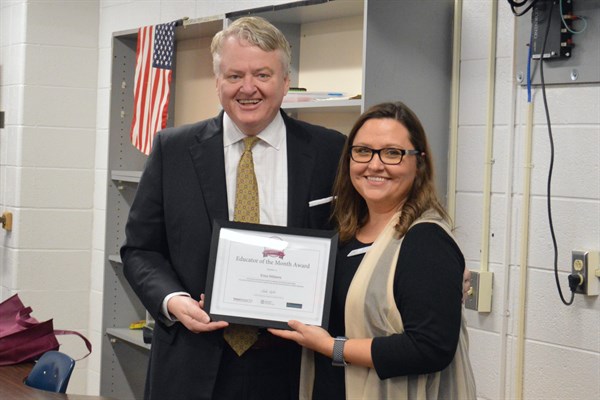 Treasurer Curtis Loftis visited Redcliffe Elementary School to recognize Erica Williams for her support of financial literacy.
South Carolina Treasurer Curtis Loftis recently recognized Erica Williams of Redcliffe Elementary School in Aiken as February's Future Scholar Financial Literacy Program Educator of the Month. Treasurer Loftis visited the school and spoke to students about the difference between needs versus wants.
"Financial literacy is an essential tool for economic success, and I enjoy speaking with the students and hearing all they are learning," Treasurer Loftis said. "Because our financial system is growing increasingly complex, we are grateful for instructors like Ms. Williams who are teaching students how to make sound financial decisions at a young age."  
Ms. Williams, a school counselor, is using the Future Scholar Financial Literacy Program with her fifth-grade students. Using the Vault platform powered by EverFi, the web-based, interactive program engages students to make learning financial skills interesting and fun.
"Teaching my students about financial literacy is an important part of helping them become smart financial decision makers," Williams said. "This program teaches students the skills they need to empower their future. Not only do they learn about managing their money, but they also learn about careers, goals and life skills needed to live independently in the future."  
The Future Scholar Financial Literacy Program is offered to elementary and middle schools across the state at no cost to taxpayers. The web-based financial management course focuses on skill building, budgeting and decision-making.
Approximately 27,000 South Carolina students and 238 schools have participated in the Future Scholar Financial Literacy Program since it was launched in 2015.
For more information about the Future Scholar Financial Literacy Program, visit scfuturescholar.everfi.com.
About Future Scholar
Future Scholar, South Carolina's 529 College Savings Plan, is administered through the State Treasurer's Office. For more information, visit FutureScholar.com or follow @SCStateTreasurer on Facebook. No state funds are used to market Future Scholar or the Future Scholar Financial Literacy Program.