State Treasurer Curtis Loftis Returns more than $15,000 to Sun City Resident
March 20, 2018
State Treasurer Curtis Loftis and Beaufort County Treasurer Maria Walls surprised a Sun City resident last week by informing her that she was to receive more than $15,000 in unclaimed property.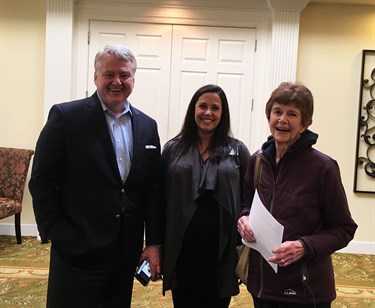 Natalie Mann was unaware that she had stocks worth thousands of dollars in South Carolina's Unclaimed Property Program until Treasurer Loftis contacted her while he was in Hilton Head last Tuesday.
Treasurer Loftis and Treasurer Walls then made a presentation to Ms. Mann the same day.
"One of the best parts of my job is seeing unclaimed property returned," Treasurer Loftis said. "Sometimes it's a small amount and sometimes it's a big amount, but the bottom line is that everybody likes getting unexpected money, and I'm excited to be a part of making it happen."
Treasurer Loftis and the Unclaimed Property Program returned nearly $33 million in 2017, bringing the total amount of money returned during his administration to $137 million, more than all previous state treasurers combined.
Currently the State Treasurer's Office has more than $550 million in unclaimed property across the state. Millions of dollars are transferred to the program annually by companies that cannot locate the owners. Examples of the types of property covered by the program include dormant bank accounts, uncashed checks, unclaimed insurance proceeds and forgotten utility deposits. The State Treasurer's Office serves as custodian of unclaimed funds and holds them until claimed by the rightful owners.
You can visit the www.treasurer.sc.gov to see if there is unclaimed property for you or your family.