State Treasurer Curtis Loftis Returns nearly $11,000 to noted Rock Hill Festival
March 27, 2018
State Treasurer Curtis Loftis returned $10,845 in unclaimed property to the organizers of Rock Hill's Come-See-Me Festival Monday.
"As the largest all-volunteer festival in South Carolina, the Come-See-Me Festival has helped showcase our state for many years," Treasurer Loftis said. "I'm pleased to be able to help the organizers by returning money which will enable them to continue to highlight Rock Hill and our state."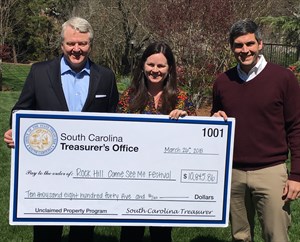 The festival attracted nearly 125,000 participants in 2017, with guests coming from 27 states and seven countries. Treasurer Loftis returned the money to Festival Treasurer Brian Ullrich while in Rock Hill Monday.
Treasurer Loftis and the Unclaimed Property Program returned nearly $33 million in 2017, bringing the total amount of money returned during his administration to $137 million, more than all previous state treasurers combined.
Currently the State Treasurer's Office has more than $550 million in unclaimed property across the state. Millions of dollars are transferred to the program annually by companies that cannot locate the owners. Examples of the types of property covered by the program include dormant bank accounts, uncashed checks, unclaimed insurance proceeds and forgotten utility deposits. The State Treasurer's Office serves as custodian of unclaimed funds and holds them until claimed by the rightful owners.
You can visit the www.treasurer.sc.gov to see if there is unclaimed property for you or your family.