State Treasurer's Office Coming to Georgetown for District 103 Community Meeting Thursday
April 29, 2019
Representatives from the Unclaimed Property Program of the State Treasurer's Office will once again join Rep. Carl Anderson in Georgetown for the District 103 National Day of Prayer and Community Meeting to help reunite local citizens with their missing funds.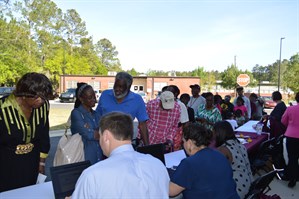 This annual event is being held on Thursday evening, May 2 at 5:30 pm at the Howard Center located at 1610 Hawkins Street in Georgetown. Several local pastors will lead prayers for the community, and the Grandmothers Unity Choir will be performing.
Every year, State Treasurer Curtis Loftis provides a list of unclaimed property to members of the General Assembly to enlist their help finding South Carolinians that have unclaimed money. "Last year Rep. Anderson was able to contact a local family that had $50,000 due to them," Loftis explained. "I am hopeful that we can help find funds for even more families this year."
"I've been a longtime supporter of the Unclaimed Property Program and appreciate the Treasurer's passion for getting these unclaimed funds back to citizens," Rep. Anderson said. "An important part of my job as a legislator is helping people learn about programs that can benefit them and improve their lives. I am grateful to Treasurer Loftis and his staff for participating in our community event."
Currently the State Treasurer's Office has more than $650 million in unclaimed property across the state with more than $4.8 million for residents in Georgetown County. 
If you can't attend Thursday's community meeting, visit the Treasurer's website to see if there is unclaimed property for you or your family.  Last year, Treasurer Loftis and the Unclaimed Property Program returned nearly $36 million to South Carolinians across state.