Treasurer Curtis Loftis Reminds Football Fans of Future Scholar Holler Sweepstakes Deadline
October 1, 2018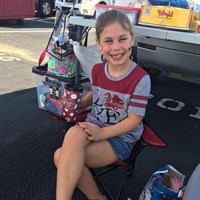 Anna Jonas, 2017 USC Future Scholar Holler Sweepstakes winner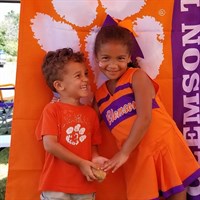 Lillie and Andrew Johnson, 2017 Clemson Future Scholar Holler Sweepstakes winner
South Carolina Treasurer Curtis Loftis wants to remind Clemson and Carolina football fans that they still have time to submit photos of their "future scholars" as part of the second annual Future Scholar Holler Sweepstakes. But the photo contest ends next Thursday evening.
Parents are invited to enter the sweepstakes by posting a photo of their child (age 12 and under) wearing their favorite Clemson or USC gear for a chance to win four tickets to a Clemson or USC football game, signed memorabilia from the head coaches – and $529 towards a Future Scholar College Savings account. The sweepstake ends Thursday, October 11 at 11:59 pm.
Two winners will be selected on October 12 from a random drawing of submitted photographs – one for Clemson and one for USC. They will receive a privately-funded $529 Future Scholar contribution presented by Treasurer Loftis on-field at the designated game. In addition, winners will receive one of the following prize packs:
Clemson University - Four tickets to the Clemson-NC State game on Saturday, October 20 at Clemson Memorial Stadium, one item signed by head coach Dabo Swinney and a tour of the stadium (approximately three hours before kickoff).
University of South Carolina - Four tickets to the USC-Tennessee game on October 27 at Williams-Brice Stadium, one item signed by head coach Will Muschamp and four pregame sideline passes.
Entrants must be the parent or legal guardian of a current or potential Future Scholar beneficiary and a South Carolina resident. For more on the official rules and a sweepstakes entry form, visit futurescholar.com/holler.
About Future Scholar
Future Scholar, South Carolina's 529 College Savings Plan, is administered through the State Treasurer's Office. For more information on Future Scholar and how to get started saving, visit www.FutureScholar.com. No state funds are used in marketing Future Scholar or awarding $529 grants.