Treasurer Loftis Presents NAUPA Lifetime Achievement Award
June 16, 2016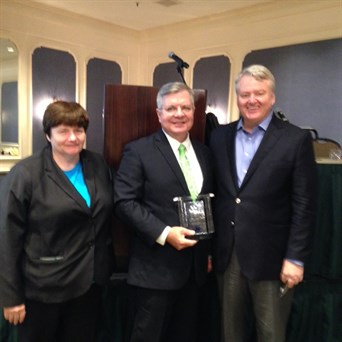 South Carolina Treasurer Curtis Loftis was honored to present the NAUPA Lifetime Achievement Award to Walter Graham, Director Unclaimed Property Division Florida Department of Financial Services. NAUPA, the National Association of Unclaimed Property Administrators, is a consumer protection program that works with states, administrators, and holders to reunite lawful owners with their  property.
As a passionate advocate for South Carolina's Unclaimed Property Program, Loftis feels that there is no  one who is more deserving of this honor than Graham, who has worked tirelessly for the last ten years to  advocate for the collection and return of billions of dollars of unclaimed life insurance benefits to the  people of Florida and around the country. Graham has overseen the payment of more than 3.7 million  claims, worth nearly 2.4 billion dollars, making him responsible for 88% of all the amounts returned in the  Florida program's 55-year history.
 As a past president of NAUPA, Graham has travelled across the country to ensure that millions of  Americans receive the benefits that their loved ones wanted them to have. His hard work and dedication  to returning unclaimed property has made a life-changing difference for many Americans. Loftis was  delighted to present this prestigious award to someone who has made a measurable impact on the lives of so many. Congratulations, Graham!