Windley Joins S.C. Board of Financial Institutions
September 6, 2018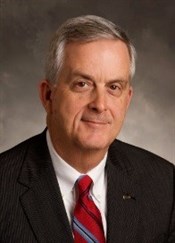 John F. Windley
Longtime South Carolina banker John Windley began a four-year term on the South Carolina Board of Financial Institutions Sept. 5.
Windley, president of Columbia-headquartered South State Bank, has spent 43 years in banking. Until July he was also president of South State, the largest bank based in South Carolina.
"John brings a wealth of experience and a substantial understanding of how the state's financial services industry works," said State Treasurer Curtis Loftis, who serves as chairman of the Board of Financial Institutions. "There's not much he hasn't seen or done in the banking business during his career. This will be of great benefit to the Board's work."
Windley is a native of Mount Airy, N.C., and a graduate of Wofford College. He succeeded Robert R. Hill Jr. as CEO of South State Bank in 2016. Windley took over as South State Bank president and chief banking officer in 2004.
"I look forward to serving the State of South Carolina and the various financial partners that support the growth and development of our great state," Windley said.
The 11-member State Board of Financial Institutions is responsible for the supervision, licensing and examination of all state-chartered banks, savings and loan associations, savings banks, credit unions, trust companies, development corporations, consumer finance companies, deferred-presentment companies and regular check-cashing companies.
For more information on the Board of Financial of Institutions, please visit bofi.sc.gov.