State Treasurer Curtis Loftis: Unclaimed Property Program Joins MissingMoney.com
August 24, 2016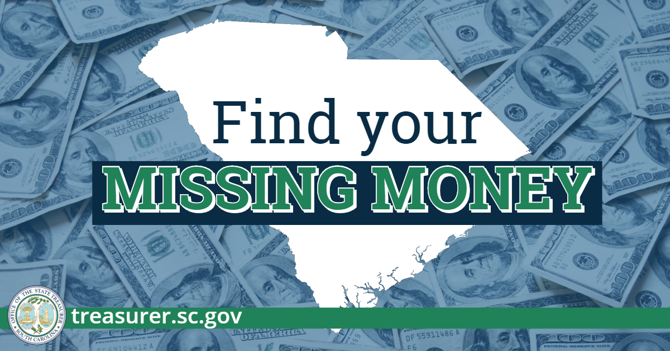 Columbia -- South Carolina Treasurer Curtis Loftis announced that South Carolina citizens can now search for unclaimed property on an additional website, MissingMoney.com. 
MissingMoney.com is a national database that includes unclaimed property being held by 42 states and provinces.

Each year, companies turn over billions of dollars to states' unclaimed property programs when they cannot locate the owners of the funds. South Carolina's Unclaimed Property Program, administered by the State Treasurer's Office, is currently seeking the rightful owners of more than $500 million.
"Many people in South Carolina have lived or worked in other states, so it's a good idea for them to check each state's unclaimed property program for money they may have left behind," said Treasurer Loftis. "By joining MissingMoney.com, we've provided our citizens with a single source for locating property across the country. This is just another way we can help reunite individuals with their lost funds."

The information on the website is updated weekly, and it is free to search the databases. If a search turns up unclaimed property, the owner will be provided information on how to start the claims process.
During the 2015-2016 fiscal year, the State Treasurer's Office returned over $23 million in unclaimed property to South Carolinians, a 28% increase over the previous year. The funds typically come from bank accounts, uncashed checks, stock certificates, insurance policies and utility deposits.
You can still search for unclaimed property in South Carolina on the Office of the State Treasurer's website.
MissingMoney.com is endorsed by the National Association of Unclaimed Property Administrators, a consumer protection organization that works with states, administrators, and property holders to reunite lawful owners with their property.
Treasurer Loftis serves as the senior vice president of NAUPA and will become the association's president in 2017.
---
Read more stories about South Carolina's Unclaimed Property Program: